1952 Custom Harley-Davidson Panhead
"These days, most people wouldn't think twice if a black man were to ride a brand new Harley-Davidson passed them on the street. But, back in the 1940s and '50s when Tyree "Tye" Smith helped start The Mohawk Delegation - that wasn't the case," Mark Smith, Tye's son, explained as he shared his dad's story.
Tye grew up in Nashville, but moved to Indianapolis as a young man where he made a living as an auto mechanic. While wrenching on cars was his day job, his passion was undoubtedly motorcycles. "Dad grew up riding motorcycles with his father and brother, my uncle Claude. In fact, most of his brothers were involved with motorcycles in some way. And, for them, the ultimate motorcycle to own was a Harley-Davidson," Mark explained.
This was the height of the Civil Rights movement and there's no question our country was working through serious racial conflict. As black men in mid-century America, it wasn't culturally acceptable for Tye or his brothers to walk into a Harley-Davidson dealership and ride away with a new motorcycle.
Mark describes his dad, who always had friends around, as very loving. People would travel from all over the midwest to spend time with Tye and his group of friends as they attended motorcycle field meets and various other events. 
So, in the early '50s, thanks in part to his warm personality, Tye was able to forge a friendship with the owner of Southside Harley-Davidson in Indy who dismissed the cultural standard of the time and decided to sell a brand new 1952 Harley-Davidson Panhead to Tye.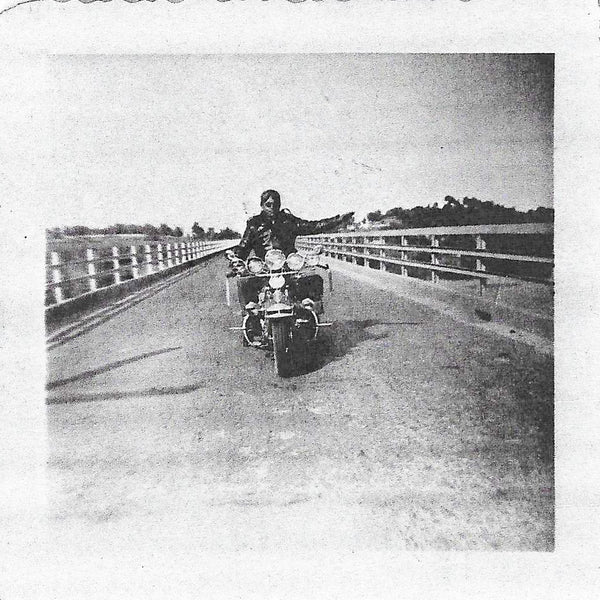 Finally, with a brand new Harley of his own, Tye started to add his own flair to it - like most of the things he owned. Two weeks into owning the motorcycle, Tye stripped the bike down and sent everything to chrome. "It was one of the only completely chrome motorcycles in that area," Mark explained as he described his dad's Panhead.
The Panhead was soon named Dreamboat and Tye continued making it his own by way of a custom seat (with his name on it) and a fully-custom continental kit on the rear among many, many other modifications. 
One of the most unique features on the bike was a little Native American figure on the front fender which signified that Tye was a member of The Mohawk Delegation, an Indianapolis-based African American motorcycle club he helped start. Tye, alongside members of the delegation, proudly rode around town and throughout the country - enjoying the motorcycles with like-minded individuals.
However, "It was tense at times," Mark told us as he recounted old stories of his dad's motorcycle trips. You can imagine the sort of racial tension 50+ African American motorcycle riders caused when they passed through town or pulled into gas stations, many of which would not serve them because of their skin color. 
Nevertheless, they persisted. They fought against the cultural standard by simply enjoying their life. Frequent family cookouts at the house and motorcycle events filled their weekends. Looking back, Mark explained, the more The Mohawk Delegation (and other groups like them) were seen around town and throughout the country on their bikes, the more it helped to normalize the perception. Over time, the sight of a black man riding a motorcycle down the street became more and more common. 
In the '70s, Tye's health began to decline and he slowly stopped riding his motorcycle to gatherings. "He would still trailer the motorcycle to the events even if he couldn't ride it, " Mark remembered, "People expected to see that bike - Tye and Dreamboat were fixtures in the community."
In 1980, Allen Tyree Smith passed away, leaving a lasting mark on the motorcycle community and the world around him and leaving Dreamboat to his family. Soon after, Mark brought the bike to his mother's house where it sat covered and untouched for over 40 years until 2020 when Mark's mother passed. Mark was tasked, once again, to recover the motorcycle and had to decide what its next chapter would be. 
The motorcycle is a time capsule from 1952 and represents an era when black motorcycle enthusiasts were publicly shunned and chastised for owning and riding motorcycles. But, more importantly, Dreamboat represents a man, Tye Smith, from Indianapolis who decided not to conform to his culture's rules. Tye went full speed against the grain of what was generally accepted and helped a generation of black Americans to claim their position as equals during a time when many of their neighbors didn't believe they had the right. 
So, instead of parking Dreamboat under a cover in his garage, Mark decided it was time for the world to hear the story of his father and his motorcycle in hopes that today's society would benefit from the story of Tye Smith and Dreamboat. So, he contacted us after learning about our recent mechanical restoration of Bronco Bronze, a 1952 Panhead found in Charlotte with a storied past of its own. The Prism team got Dreamboat running and riding again after all those years of sitting. Mark and his cousin, Earl (former Rough Rider's President for 30+ years), even had the opportunity to visit Charlotte where Mark got to ride his dad's bike for the first time since his father's passing in 1980. 
Although parting with that bike was one of the hardest decisions of Mark's life, he tells us, "I think dad would be proud. What's coming out of this is more important than the sport of motorcycle riding itself. The fact that he was one of the first black men to stand up against what was culturally unacceptable at the time." Mark continued, "Other people can learn from his story. If you believe in something and stand up for yourself, you can help right a wrong if you stand up for injustice - whether that be because of sex, race or whatever - believe in yourself."